InnoTrans 2022
---
Mark your calendar for September 20 to 23



We are delighted to invite you to our exhibition stand at InnoTrans 2022 EXPO. InnoTrans is one of the largest trade fairs in the world of railway technologies that takes place in Berlin.
Meet our Mors Smitt team in hall 1.2 - stand 210 of Wabtec: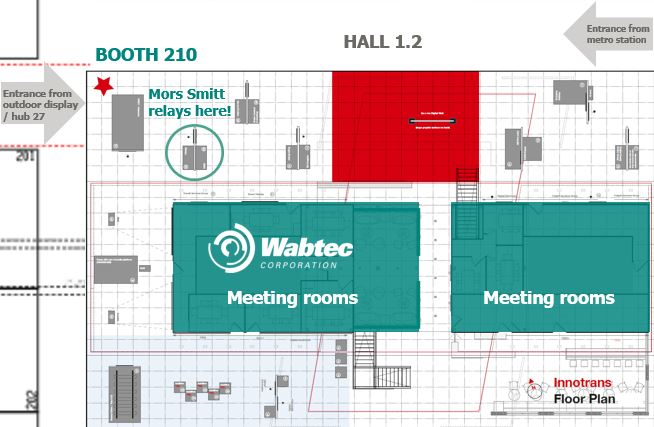 To schedule a meeting contact wnl_salessupport@wabtec.com.
On our podium you will find:



High Density Relay Module
From rolling stock applications to signalling and protection


Flexible concept with 10 - 60 relays per module
56% weight and 70% floor space saving with compact relay/circuit breaker panels
25% more space available with new relay sockets
50% less of power consumption with low power relays


Relay Condition Monitoring System
Condition-based maintenance at exactly the right time


Diagnostics information about relays and other connected electronic devices
Enables condition-based maintenance
Improves system availability and reliability
Reduces total cost of maintenance


Energy Measurement, Control and Protection Solution
Product portfolio for energy consumption measurements


Train to ground communication for energy data collection
Integrated, scalable and on-board proven
Less weight and space and cost-effective solution
Compliant with railway standards

InnoTrans is the leading international trade fair for transport technology and takes places every two years in Berlin.

Sub-divided into the five trade fair segments Railway Technology, Railway Infrastructure, Public Transport, Interiors and Tunnel Construction, InnoTrans occupies 42 halls available at Berlin Exhibition Grounds.

InnoTrans is organized by Messe Berlin.

The InnoTrans Convention, the event's top-level supporting program, complements the trade fair and will be streamed live.

A unique feature of InnoTrans is its outdoor and track display area, where everything from tank wagons to high-speed trains are displayed on 3500 meters of track.