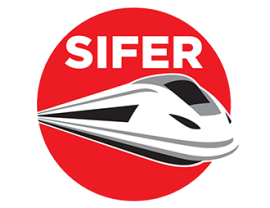 SIFER 2023, 13th edition of International Exhibition of Railway Technology, will take place on 28-30 March 2023 in Grand Palais, Lille, France. Get the latest on SIFER! Register here: www.sifer-expo.com
On-Track Display: an established and successful feature


Sections of track laid in the exhibition hall enable suppliers of rail-mounted vehicles and track-related equipment to display their products. There is no better way to experience a supplier's product than to see how it sits, works and looks on track as it would in the field.

The on-track display is provided by ETF, a subsidiary of EUROVIA (VINCI Group) and one of the world's leading players in the rail industry, specialising in the construction and maintenance of national railway networks, urban transport networks and industrial sidings.

An insightful conference programme


Through its cooperation with Show Partners that include key organisations shaping the rail industry in France, the show offers vital insights into future trends in policy and technology. A diverse programme of associated events will be held, addressing some of the challenges facing railway operators and suppliers at a watershed period for the industry.

More information on the seminar programme will be published closer to the show. In the meantime, the SIFER Show Team is happy to answer any questions you may have.

NEW: Innovation Hub


New at SIFER 2023 is the Innovation Hub, a dedicated area where start-ups will propose highly innovative and creative solutions to shape the rail industry together with all other organisations and address tomorrow's challenges.

If you are interested in a stand space to show your potential at a special price rate in this highly visible area, you will find conditions for participation, pricing and further details on the Stand Information & Pricing page.