New EazyVolt - 2-pole voltage testers
New EazyVolt - 2-pole voltage testers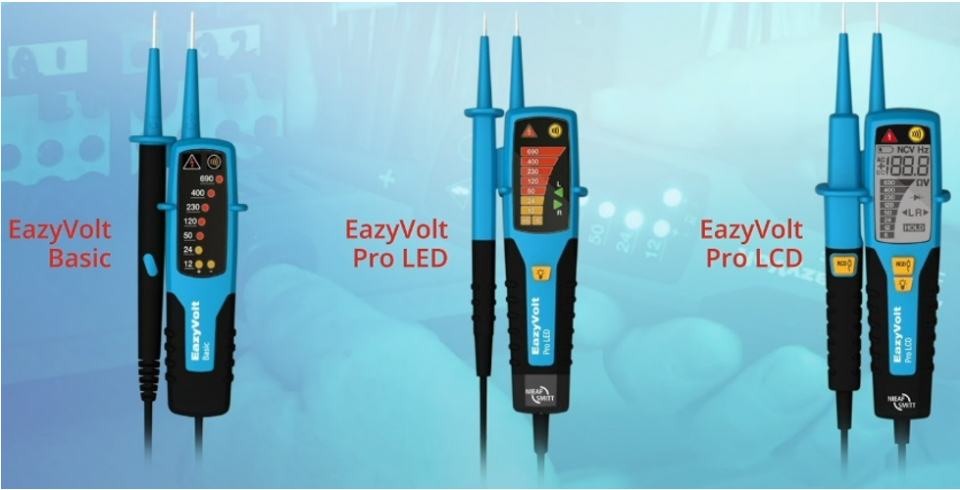 Work safely – Safety First
One of the most important aspects of safe working on a low-voltage installation is to check the installation for the absence of voltage after de-energizing. Checking the Presence or absence of voltage is done with a 2-pole voltage tester as defined in the EN 61243-3 standard.
A 2-pole voltage tester needs to be part of every electrician's standard equipment.
Besides detecting / measuring voltage and checking a continuity an Electrician will need other items like digital readout, check phase sequence, RCD's, Resistance and ghost voltages.
Therefore Nieaf-Smitt has designed three models that will give every user it's perfect match.
EazyVolt Basic
Voltage tester suitable for measuring AC and DC voltage, phase detection and checking the continuity. The compact shape makes the tester ideal to always have with you. The tester is "Fail-safe" because the voltage level is also shown if the batteries are empty.
A Wall Socket can be easily tested via the one-handed operation.
EazyVolt Pro LED
Professional CAT IV voltage testers that indicate the voltage level up to 690V via LEDs. The tester has the possibility to test the continuity and is water resistant. Dangerous voltage and continuity can also be read through additional LEDs on the side.
This tester has the possibility to determine the rotating field direction, a self-test, and has a torch. The voltage above 50V is always measured, regardless of the status of the batteries (Pro LED only)
EazyVolt Pro LCD
Professional CAT IV Voltage tester that can measure voltages up to 1000Vac / 1500Vdc on a large LCD display with backlight.
As an extra to the Pro LED, the Pro LCD has:
Dangerous voltage Indication by means of a vibration function,
Voltage measurements from 1V are measured with a sensitivity of 0.1V
Resistance measurement
Testing RCD by means of a 2 button method
Suppressing ghost voltages
Non Contact Voltage Detection to detect cable interruptions



Overview of functions
EazyVolt Basic
EazyVolt Pro LED
EazyVolt Pro LCD
Indication
LED
LED
Digital
Optical indication
•
•
•
Acoustic indication
•
•
•
Voltage AC
•
•
•
Continuity
•
•
•
Voltage DC
•
•
•
Single pole detection
•
•
•
Phase sequence
•
•
Selft test
•
•
Flashlight
•
•
Side led detection
•
•
2mm and 4mm measuring adapters
•
•
GS38 protection tips
•
•
Increase measuring range 1000Vac/1500Vdc
•
RCD test
•
Vibration mode
•
Ghost voltage detection
•
Non-Contact voltage detection
•
Resistance
•
Diode
•
High resolution voltage measurement
•
Hold
•
Overvoltage category
CAT II 690 V
CAT III 600 V
CAT III 1000 V
CAT IV 600 V
CAT III 1000 V
CAT IV 600 V
Batteries
2 x AAA 1.5 V
2 x AAA 1.5 V
2 x AAA 1.5 V
Productpage
Productpage
Productpage