Quality management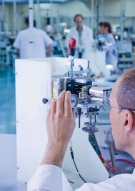 'Quality and safety are the drivers of our thinking and doing'
Certification to strictest standards
The Mors Smitt companies have certified quality and environmental management systems according the leading international standards. ISO 9001:2015 and the railway specific ISO-TS 22163 (IRIS-3) standard for its railway industries activities.
Also certification to ISO 14001 is obtained and for the maritime market certification is according to MED 96/98/EC.
ISO-TS 22163 (IRIS-3)
ISO 9001
ISO 14001
MED

RoHS Declaration

REACH Declaration
Conflicting Minerals (CMRT) Declaration

VCA

Commitment to quality
For more than half a century, the Mors Smitt companies have been widely acknowledged as leaders in industries they serve and trusted partners in the world-wide supply chain. Quality is the degree to which the company and its products respond to the constantly growing demands made upon them. Mors Smitt understands that constant investments in the quality of its people, continuous improvement, product innovation and quality assurance are needed to comply to clients requests. MSG lives by the quality of its thinking, its work and the reliability of its products.
Minimum lifecycle cost
In the long term the best components are generally the most economic. Real quality inevitably has its price. But the price of a component is almost irrelevant when it saves a breakdown. Reliable components are worth many times their weight in gold. Morst Smitt strives to ensure its clients components and solutions with the lowest lifecycle cost.