Vapor Relays & Contactors
Vapor Relays & Contactors
Designed, Tested and Proven for Critical Applications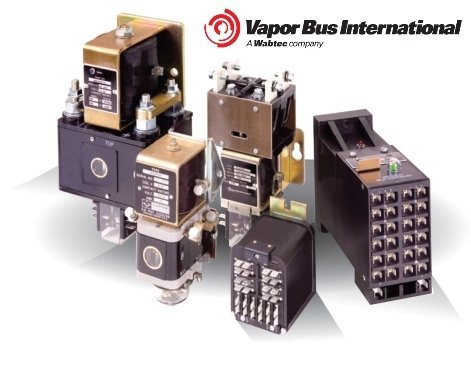 From rail passenger cars and locomotive control and starting circuits to earth moving equipment, Vapor relays and contactors have established a reputation for quality and reliability where dependable control of DC circuits is required. Performance-proven in thousands of applications worldwide, Vapor relays and contactors meet or exceed stringent qualification requirements of major locomotive and rail passenger car builders and heavy machinery manufacturers.
Units are in daily service on U.S. Class 1 railroads, the New York City Transit Authority, the Chicago Transit Authority, the Toronto Transit Commission and other railroads and transit agencies around the globe.
Extended Service Life
Vapor designs incorporate the highest quality components and materials to provide long life with minimum maintenance. Control relays provide from 1 to 2 million cycle load life and 10 million mechanical cycles. Contactors provide up to 5 million mechanical cycles.
Shock and Vibration
All products have been designed for an extended service life on moving equipment, and will withstand continuous conditions of shock and vibration.
Custom Designs
A wide selection of standard relays and contactors is available. In addition, Vapor can design and manufacture units to meet specific requirements.
Minimum Maintenance
Rugged enclosures, accessible designs, quality materials and controlled manufacturing processes all contribute to minimizing maintenance problems and expense.
Compact, Lightweight Units
As units are engineered for a particular purpose, application and/or specification, they represent the lightest, most compact design possible.
Computerized Testing
All relays and contactors are thoroughly tested during the manufacturing process using computerized test equipment. Electronic records verify the specification compliance of every unit.
DC Relays and Contactors for high reliability and long life
Control Relays
For general control circuits, small motors, solenoids, alarm circuits, switching circuits and safety equipment.
Time Delay Relays
For delay intervals of second or minutes. Hybrid electromechanical designs.
Latching Relays
For alarm and signal circuit supervision with manual or electrical reset.
Medium and Heavy Duty Contactors
For motors, lighting, multiple solenoid circuits, heating, motor starting, battery charging, signal and alarm circuits, motor and generator field control.