In stock
Equipment testers
SafetyPAT 3140
626000777
Summary
Tool tester
The SafetyPAT 3140 is a progressive tester with a wide range of test functionalities. In addition to a device tester, the SafetyPAT 3140 is a complete device for the Risk Inventory & Evaluation. (RI&E)

Every company with staff must investigate or have investigated whether the work can endanger or damage the health of employees. This investigation must be recorded in writing.

In addition to the RI&E function, the basis of the SafetyPAT 3140 is a device tester in accordance with NEN 3140. This standard contains many requirements that can be measured simply, quickly and completely with the SafetyPAT 3140.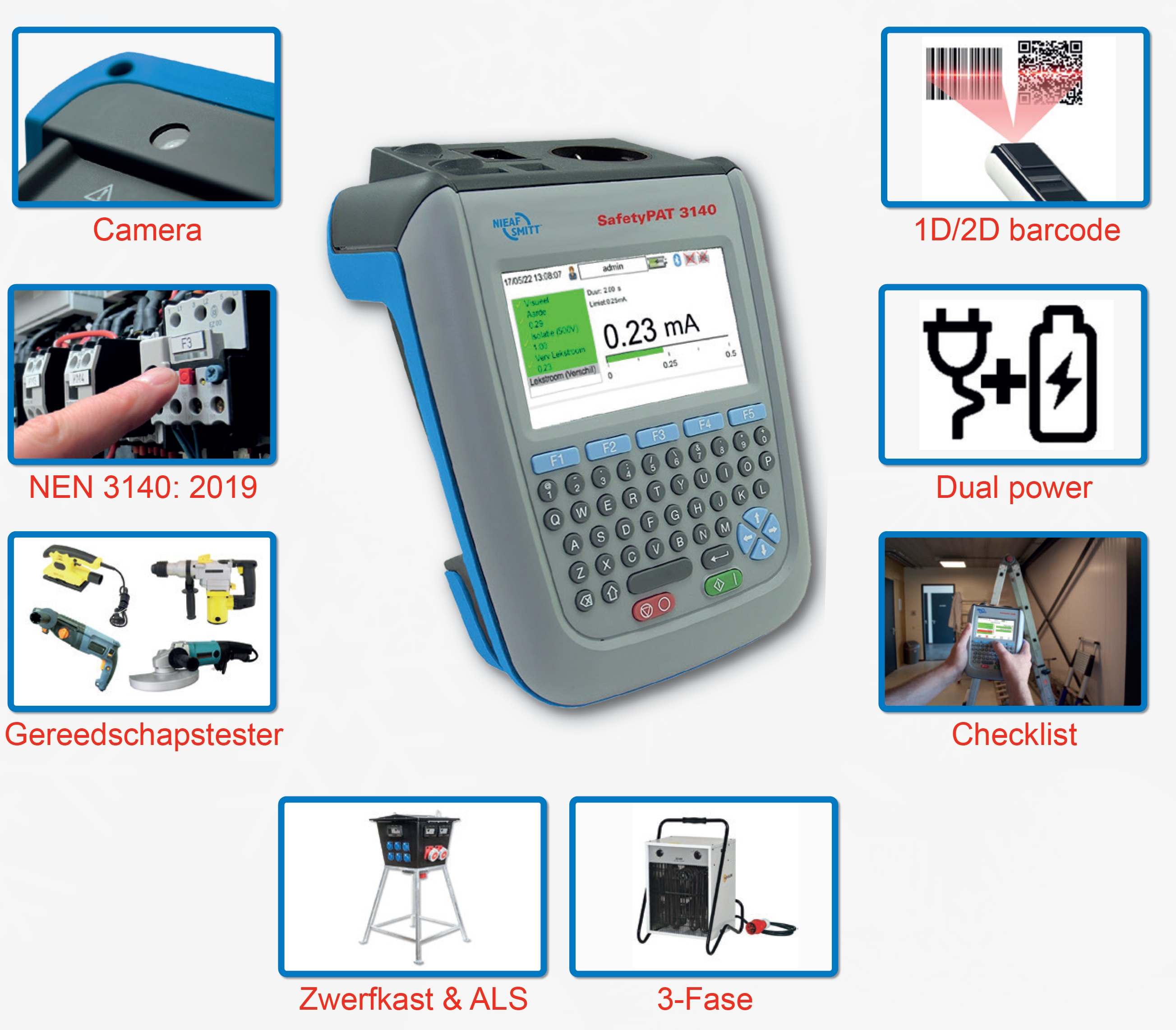 Features
All NEN 3140 measurements
Universal and electrical risk assessment
3-phase real leakage current through optional test adapter
View the instruction video here
Earth leakage circuit breaker check according to NEN 3140
Storage of 50,000 measurements
Built-in digital camera
Storage of 2000 photos
Bright LCD color screen
Querty keyboard
Works both on battery pack (included) and 230 V
Send data from location to computer
Bluetooth and USB connection for USB sticks
It is also possible to enter inspections of non-electric tools in the tester. This makes it possible to use 1 tester for testing the material.

Via a simple tool in PATManager V4 software there is the possibility to register a multitude of non-electrical requirements. This may include emergency lighting, climbing and hoisting equipment and garden and park machines.

The SafetyPAT 3140 brings the testing of work equipment to a higher level, and it is also the complete tool for RI&E control.
FAQ
Hoe moet ik een SafetyPAT 3140 uitlezen?
SafetyPAT 3140

Bekijk hier de instructievideo

De SafetyPAT 3140 werkt niet met een COM poort maar met een USB verbinding en maakt een verwisselbare schijf aan in Windows waar vanaf de gegevens gedownload worden naar de PATManager software.
Om gegevens te downloaden vanaf een SafetyPAT 3140 zijn er aanvullende opties welke ingesteld kunnen worden in het download scherm van de PATManager v4 software. Een Bronbestand (de locatie van de SafetyPAT 3140 gegevens) en welke data er gedownload dient te worden.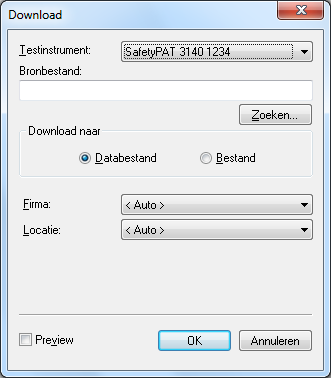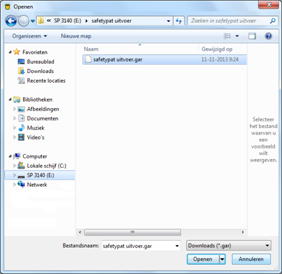 Selecteer Zoeken... om de directory van de SafetyPAT 3140 te selecteren waar de gegevens van gedownload dienen te worden. Selecteer het bestand in de directory van de SafetyPAT en klik op Openen.
Mijn beeld knippert en/of licht op tijdens het opstarten, de tester start niet op
Controleer of de accu van de tester voldoende lading heeft door de tester uit te schakelen, op de netspanning aan te sluiten en enige tijd te wachten. Probeer vervolgens nogmaals om de tester op te starten. Indien u problemen blijft ondervinden, neem contact op met de Helpdesk.
Kan ik de taal instellen op Engels?
Ja, dit is mogelijk middels de onderstaande stappen:
In het hoofdmenu van de tester druk op F4, ga vervolgens naar Gebruikers, hier kan de gewenste taal van de tester worden ingesteld.
Hoeveel geheugenplaatsen heeft de SafetyPAT 3140?
De SafetyPAT 3140 heeft 50.000 geheugen plaatsen.
Geen voedingsspanning fout
Indien de tester de melding blijft weergeven, controleer de zekeringen van de tester. Hiervoor dient men de tester te open.
Voordat men de meter opent, dient men zichzelf te verzekeren, dat alle kabels uit uw tester zijn verwijderd.

De zekeringen zijn via de reguliere handel en via Mors Smitt (626006031 Zekering van 16 A / 250 V, geschikt voor EazyPAT- en SafetyPAT-lijn) te verkrijgen.
Mijn tester dient gekalibreerd te worden, hoe gaat dit in z'n werk?
Hoe kan ik geuploaden objecten in de tester bekijken?
Ja, dit kan doormiddel van de volgende stappen:
1. In het hoofdmenu van de tester druk op F4
2. Druk vervolgens op het cijfer 1 om de resultaten op te roepen.
3. Druk op F2 om een filter in te stellen
4. In het venster Selecteer testen, stel deze in op Geupload
5. Druk op F4 om de geuploaden objecten weer te geven.
LET OP: alleen de gegevens welke relevant zijn voor een herkeuring worden weer gegeven
Instructievideo : SafetyPAT 3140 uitlezen in PATManager v4
Instructievideo : Keuren van 3 fase apparatuur met de SafetyPAT 3140
Hoe kan ik bestanden naar de SafetyPAT 3140 sturen
In het bestand "uploaden objecten SP3140" staat hiervoor een instructie.
Product information request