SEPTA - Electrical distribution board
Electrical distribution boards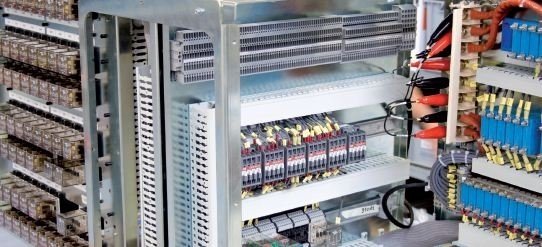 For the Hyundai Rotem SEPTA project Mors Smitt designed the complete electrical distribution board fitted in a small space envelope. Especially for this train situation, with key points like low maintenance, plug and play connection and two sides reachable, a special design was made. Hyundai Rotem provided the train schematics and Mors Smitt designed the complete system and the mechanical design for the electrical distribution board.

Mors Smitt designed 4 separate panels which were mounted together in a square box. All connections are separate on a terminal panel on the square box and easy to reach. Two of the panels act as doors to give access to the other (inner) panels. The board is made according to the SEPTA required standards. Every wire has a ferrule and sleeve with a destination code and wire number.

Installation
Hyundai Rotem and Mors Smitt selected a configuration with MCB's, D-U relays and contactors in one square electrical distribution board. Where possible Mors Smitt used cage clamp connections for fast mounting and low maintenance. For connection of the train wiring to the electrical distribution board X-com connections were used. (fast, easy mounting and low cost).

Mors Smitt assisted Hyundai Rotem with commissioning on site. All electrical distribution boards were fully tested (100%) before shipping to SEPTA. The delivery was according a
pre delivery schedule from Hyundai Rotem USA.
Design:

Unique features:
| | | |
| --- | --- | --- |
| Sturdy wiring and cable layout | Cable ducts offer flexibility, easy maintenance | Panel mount, rear wiring, spring terminal relay sockets |
Scope of project SEPTA:
Project duration
2008 - 2011
No. of panels
> 120 pieces
Circuit breakers
> 7.500 pieces
DU Relays
> 7.000 pieces
Timer relays
> 500 pieces
Length of wiring
> 90 km
Terminals
Ca. 52.500 pieces
No. of crimp connections
Ca. 160.000 pieces
No. of assembly hours
Ca. 11.500 hrs