SMRT Refurbishment
Electrical relay boards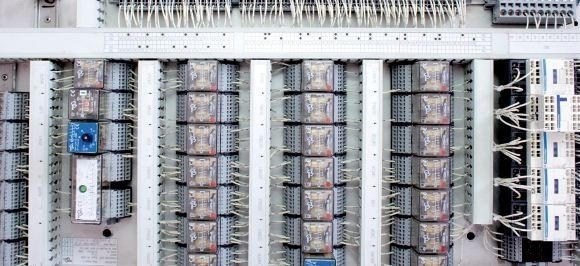 In Singapore Mors Smitt refurbished ordered by Hyundai Rotem type C151 metro cars. The 20 years old trains were refurbished; all the panels were replace by new panels with new type relays. Through the lack off basic train information it was a challenge to design the circuit diagrams of the panels. Mors Smitt has been several times on site to check and compare the existing diagrams with the new design. To relieve the customer, a turnkey construction for delivery of the relay panels was choosen in 5 different configurations. This was succesfull due to good teamwork between Hyundai Rotem, SMRT and Mors Smitt.

Installation
Mors Smitt selected the correct relays to replace the existing relays after analysing the contact load and contact quantity. There are 5 different configuration panels, each of them designed for its own application in the train. The implementation and commissioning was part of the contract. For easy mounting and connection to the train we used cage clamp and X-com technology for terminals and relay sockets. Black printed identification on the white wiring was provided. Before delivery of the panels each panel was 100% functionality tested on our automatic test system.

Modification
During the production phase several modification requests were succesfully executed. By using swing batches of complete trainset panels and the X-com quick connectors
the job was done 'quick and easy'.
Train builder:
Hyundai - ROTEM
Operator:
SMRT - Singapore
Design:

Unique features:
| | | |
| --- | --- | --- |
| Wire identification by unique, individual printed wires | Spring terminal connection | Optimal flexibility by coded connectors. Integrated jumper feature. |
Scope of project SMRT
Project duration
2005 - 2008
No. of panels
> 650 panels
DU relays
> 31.000 pieces
special relays
> 3.000 pieces
Diode modules
> 1.200 pieces
Contactors
> 1.800 pieces
Length of wiring
> 95 km