SSL - Sub Surface Line
MCB Panels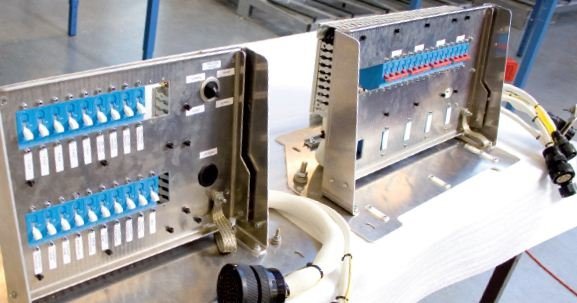 The electronic distribution panels (AC & DC panel) for the SSL project of Bombardier for transport for London have been developed in close cooperation with Bombardier. Bombardier Transportation provided the schematics and space limitations. Mors Smitt provided a creative solution.

Especially for this project a smart mechanical construction was developed resulting in easy assembly in the trains. In addition Mors Smitt was very closely involved with the integration of the solution to optimise the performance of the panel. A tilting panel was designed to place beneath a seat on the train.

This way the available space as well as the operating possibilities are combined without making concessions to the maintainability of the panel.

Installation
Bombardier selected a construction where the earth leakage module is combined with a circuit breaker to guarantee the optimum user safety. The MCB panels are connected to the train wiring with connectors. The installation of the panels was simple and fast, plug & play. The MCB panels were 100% tested before delivery. Delivery per trainset was 'just in time' according to Bombardier planning.
Design:


3D design of panel
Unique features:
The ultra reliable hydraulic magnetic miniature circuit breakers from
Mors Smitt are used.

Smart hinge construction for easy access during maintenance.

Special connectors are used for quick installation of the panel.
Scope of project SSL
Project duration
2009 - 2015
No. of panels
> 2.700 pieces
Circuit breakers
> 32.000 pieces
Earth leakage
> 5.000 pieces
Connectors
> 7.500 pieces
Length of wiring
> 70 km
No. of crimp connectors
> 225.000 pieces
No. of assembly hours
Ca. 21.000 hrs