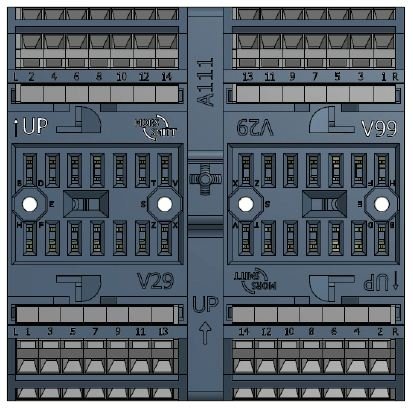 35mm (DIN) rail + wall/surface mounting
V99 relay socket
338003950
Summary
V99, 35mm (DIN) rail mounting, surface mounting, relay socket
For heavy duty, industrial applications, space saving design. Installation and replacement of plug-in relays is made easy and cost saving. No maintenance is required for the user.
Description of V99 relay socket
The V99 relay socket has two high quality spring terminals per relay contact suitable for two wires up to 2.5mm2 (solid or stranded), so looping/daisy chaining can be done on the socket and no external connector or terminal is needed.
The spring terminal makes quick connection possible by pressing the spring with a flat-bladed screwdriver and inserting the stripped wire. Solid and (fine) stranded wire up to 2.5mm2 can be inserted. This quick & easy wiring method saves up to 75% wiring time compared with classic technology, like screw terminals.
To prevent any faulty relay placement the socket can be equipped with mechanical keying to accept only designated identical keyed relays.

Clear UP arrow for correct 35 mm. rail mounting
Features of V99 relay socket
Spring terminals
No internal solderings / connections

Rail mounting 35 mm (DIN)

Surface mounting

Touch proof IP20

Suitable for all D-series power relays

Twin connection per contact. Wire up to 2,5 mm2

Easy & quick installation (75% reduction of wiring time)

Positive mechanical keying

Trifurcated female receiver for tight grip relay pin

Clear terminal ID
Benefits of V99 relay socket
Proven reliable
Long term availability
Easy to maintain

Low life cycle cost

No maintenance
Product information request